Chiropractic Care in Ventura: The Graston Technique®
Chiropractic Care in Ventura: The Graston Technique®
Written By Advanced Spine & Sport Medical Rehabilitation Center on January 29, 2021
---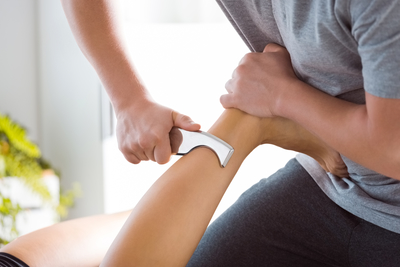 See why so many professional athletic institutions choose the Graston Technique® for soft-tissue healing.
Whether you're an athlete or not, getting out of pain is your number one priority. The second thing that concerns you is finding a non-invasive, safe, and effective way to reduce that pain. You want a solution that doesn't put a band-aid on the problem but treats the root cause and promotes healing.
The Graston Technique® used by your Ventura chiropractor checks all these boxes.
What is the Graston Technique®?
The Graston Technique® is a type of manual physical therapy called soft tissue mobilization. During your appointment, the practitioner utilizes a hands-on technique to promote muscle and ligament healing and break up scar tissue that results from a soft tissue injury.
To perform the Graston Technique® (GT), your Ventura chiropractor uses a patented instrument to assist with soft tissue mobilization. The instrument allows the practitioner to identify areas where scar tissue is building up and treat the area to encourage quick healing.
Conditions That Can Be Treated with GT
Your Ventura chiropractor can use this technique to treat a variety of soft tissue injuries and conditions, including the following.
Joint sprains
Cervical (neck) pain
Fibromyalgia
IT band syndrome (a condition in which the iliotibial band, the ligament that runs along the outside of your thigh, is so tight that it constantly rubs against the thigh bone)
Carpal tunnel syndrome
De Quervain's syndrome (painful swelling of the tendons in the thumb caused by repetitive actions)
Epicondylosis (or tennis elbow, pain in the tendons of the arm)
Effectiveness of the Graston Technique®
Athletes and the general population alike can overexert their bodies, whether they're engaging in sports, using repetitive motions at work, or sitting for long periods with poor posture.
By using GT, your Ventura chiropractor can help hasten the recovery and rehabilitation process, thereby reducing the length of your treatment.
Additionally, this technique is an all-natural way to decrease pain and inflammation. Therefore, your need for pain-relieving medications can be significantly reduced, if not eliminated.
Safe, Natural Pain Management in Ventura
Dr. James Baranski, a certified Graston Technique® provider, is dedicated to helping his patients keep pain at bay. Whether he's working with a professional athlete, a student-athlete, or a weekend warrior, your Ventura chiropractor is going to provide you with the best care possible.
To that end, Dr. Baranski has devoted much of his time to furthering his education to provide patients with exceptional care utilizing the best tools and techniques, like the Graston Technique®. His goal is to help reduce your pain and risk of long-term damage in the safest, least invasive way possible.
Are you tired of dealing with pain? Contact our office today at 805-642-4061 to schedule a consultation with Dr. Baranski.

Posted In: Chiropractic Graston Technique