How Chiropractic Care and Massage Therapy Work Together
How Chiropractic Care and Massage Therapy Work Together
Written By Advanced Spine & Sport Medical Rehabilitation Center on September 28, 2020
---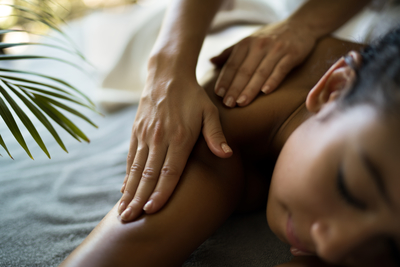 Chiropractic care and therapeutic massage effectively relieve pain and stiffness, restore mobility, and promote wellness. These complement each other to bring health benefits to patients by increasing blood circulation, boosting the immune system, and reducing pressure in the joints, muscles, and spine.
The Difference Between Chiropractic Care and Massage Therapy
Massage therapy involves skin and soft tissue manipulation, rubbing, and pressing for body relaxation, pain, and stress relief. Massage therapy types include:
Swedish Massage – long strokes, circular movements, and kneading for muscle tension and pain relief.
Deep Tissue Massage – forceful, targeted, and gradual strokes to connective tissues and muscle layers for pain relief and improved blood flow circulation.
Myofascial Massage – gentle pressure on myofascial tissues to remove stiffness and loosen the tissues that support the muscles.
Neuromuscular Massage – forceful pressure on muscles using the knuckles, elbows, and hands for chronic pain relief due to muscle spasm and compression.
Chiropractic care is effective in treating symptoms of musculoskeletal disorders (MSDs) such as carpal tunnel syndrome (CTS), herniated discs, and sciatica.
Chiropractic involves spinal decompression, spinal manipulation, and adjustments of joints and bones in the cervical spine.
Benefits of Chiropractic Care with Massage Therapy
The body's musculoskeletal systems include an interconnected network of nerves, tissues, muscles, joints, bones, and spine. Chiropractic deals with taking care of the spine, joints, bones, and hard tissues. Therapeutic massage works on soft tissues and muscles.
A combination of both treatments leads to longer-lasting and highly effective benefits to the body, which includes:
Improved nervous system function and mental alertness
Increased mobility and flexibility
Improved circulation of oxygen, nutrients, and blood
Reduced inflammation for faster pain relief
Faster healing of tissues and muscles
Massage therapy stimulates healthy muscle functions and removes lactic acid, which causes stiffness and muscle spasm. When muscles are relaxed, doctors of chiropractic can perform a highly effective spinal decompression to realign the spine.
Chiropractic and Massage Therapy in Ventura, CA
Dr. James Baranski, D.C. will recommend the most effective chiropractic treatment for your neck and body pain, based on your health assessment.
These treatments include a combination of chiropractic care, massage therapy, and other options for long-term pain relief and improved mobility.
If you want to experience the benefits of chiropractic with massage therapy in Ventura, CA, contact Advanced Spine & Sport Chiropractic at (805) 642-4061, or schedule an appointment online.

Posted In: Chiropractic Massage Therapy