Therapeutic K-Laser Treatment in Ventura
Therapeutic K-Laser Treatment in Ventura
Written By Advanced Spine & Sport Medical Rehabilitation Center on December 30, 2020
---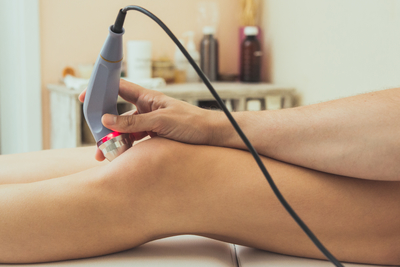 The K-Laser targets damaged tissue and promotes faster, more profound healing in soft tissue injuries.
Your Ventura chiropractor utilizes the latest technology to help your body heal while reducing pain and limiting your risk of long-term damage.
The K-Laser – Breakthrough Technology for Treating Soft Tissue Injuries
The K-Laser provides high-powered laser therapy. Light waves from the laser target damaged tissues and help heal them on a cellular level.
Laser therapy is similar to photosynthesis. Sunlight penetrates the plant's outer membrane, reaching the cell membrane to promote growth.
When your Ventura chiropractor utilizes the K-Laser, the light penetrates the skin and reaches the cells. Then, it initiates a process called photobiostimulation, a biological reaction that encourages the body to start the regenerative process. The result:
The cells begin to repair damage

Lower inflammation

Endorphin release

Collagen build-up

Possible normalization of damaged tissue
When your body experiences this level of healing, you'll have less:
Overall pain

Stiffness

Swelling

Muscle spasms
You'll also experience an improved range of motion, flexibility, and mobility.
What Conditions Can Your Ventura Chiropractor Treat with the K-Laser?
Your chiropractor can successfully treat a variety of painful conditions by utilizing laser therapy in your chiropractic treatment plan. Healthcare professionals have successfully treated the following conditions.
Back pain

Sciatica

Arthritis

Degenerative discs

Degenerative joints

Fibromyalgia

Peripheral Neuropathy

Carpal tunnel syndrome

Auto injuries

Headaches

Sinus issues

Knee pain

Sprains and strains

Tendinitis (inflammation of connective tissue around the joints)

TMJ disorder (dysfunction of the jaw joints that causes pain, stiffness, and headaches)

Pain caused by bunions or plantar fasciitis (inflammation of connective tissue in the bottom of the foot)
The Goal Is Not Just Symptom Relief
While pain relief is a definite perk of K-Laser therapy, the goal of this type of treatment goes beyond treating symptoms. Ultimately, your Ventura chiropractor wants to heal the soft tissues that have sustained damage.
When these tissues heal, your body can function better. Your body will move like it's supposed to, and you'll have less strain and tension on the muscles, tendons, joints, ligaments, and nerves. You'll also experience better blood flow throughout your body. All of this results in better overall health.
Committed to Providing You with the Best Care
Dr. James Baranski wants to provide his patients with the highest-quality care possible. To that end, he stays up-to-date on the latest techniques and technology, like the K-Laser. He's also engaged in hundreds of hours of continuing education to help patients with specific issues, from how to treat work and sports injuries to exercise therapy. With treatment from your Ventura chiropractor, you won't have to rely on pain medications or deal with long-term pain. You can get relief!
Are you curious to know if the K-Laser can help you? Contact us at 805-642-4061 to schedule an exam and consultation.

Posted In: Chiropractic K-Laser Therapy