Top Five Signs You May Have Whiplash
Top Five Signs You May Have Whiplash
Written By Advanced Spine & Sport Medical Rehabilitation Center on October 21, 2019
---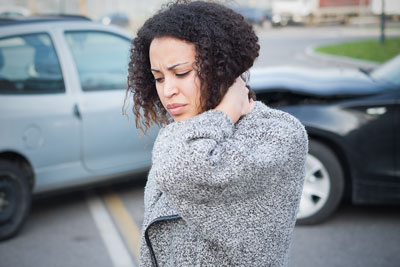 If you have been in a car accident to the extent the crash forcefully jolted your neck back and forth, you are likely to have developed whiplash. Although some get better with time, chronic pain can result if you experienced a severe jarring on your neck.
Five Whiplash Signs and Symptoms
Car accidents are the main cause of whiplash. Whiplash happens due to a sudden jerk or movement of the head and neck, which causes stiffness, pain, and even ongoing headaches. Knowing the signs of whiplash is important so that severe cases are not left untreated.
Stiffness in the neck
You find it difficult to move your neck as you would normally (side to side or backward to forward).
Movement aggravates the neck
Moving your neck makes the pain worse. You may also experience tenderness in the shoulders, upper arms, or upper back.
Fatigue
Everyday activities are exhausting, and you find it difficult to move due to stiffness, tenderness, pain, or general discomfort.
Headaches
Headaches due to whiplash often occur at the base of the skull and radiate towards the forehead.
Difficulty concentrating
Having trouble focusing, blurred vision, and memory problems are a few other underlying issues that need to be examined immediately.
Get Whiplash Treatment in Ventura, CA
Dr. James Baranski, D.C. of Advanced Spine & Sport Chiropractic located in Ventura, CA, can diagnose and treat your symptoms of whiplash by using a variety of techniques best suited to your needs. These specialized programs include chiropractic, physical therapy, and massage therapy. Moreover, the clinic can also help you find the right personal injury attorney for you in Ventura county.
As a sports and physical activity enthusiast himself, Dr. Baranski believes in safe treatments and swift recoveries for his patients.
To make an appointment with Dr. Baranski, please call (805) 642-4061 or visit the website.

Posted In: Chiropractic Auto Injury