Working from Home? Use Proper Ergonomics to Avoid Neck and Back Pain
Working from Home? Use Proper Ergonomics to Avoid Neck and Back Pain
Written By Advanced Spine & Sport Medical Rehabilitation Center on July 12, 2021
---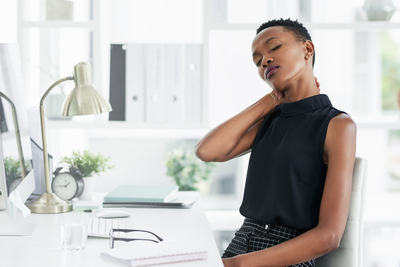 The pandemic has fueled an unprecedented rise in the number of people working from home. Although this offers many benefits, working from home is not without its potential downsides. For instance, home office workers may be more prone to neck and back pain due to poor workplace ergonomics.
Understanding the Fundamentals of Workplace Ergonomics
People who are new to working from home may be more likely to use non-traditional workspaces. For instance, you might set up shop at the kitchen table or sit on the floor with your back against the wall and your laptop on your lap. These non-traditional workspaces involve improper ergonomics and, consequently, they cause back and neck pain.
Instead of using an impromptu workspace, use the following tips to set up an ergonomically correct one.
Chair: Your home office chair is arguably your most important investment. Look for a chair that can be adjusted for height. Your feet should rest flat on the floor with a 90-degree angle at the knees. (The knees should be level with the hips.) Your chair should also feature lumbar support for your lower back.
Desk: Your desk should have plenty of clearance for your knees—you don't want to have to put your legs in improper positions simply to be able to sit at your desk. It's ideal to choose a desk that can be adjusted in height. The height of the desk should allow your arms to reach your computer in a way that keeps your forearms level. Alternatively, your hands could be slightly below the level of your elbow.
Computer: Your computer should be about an arm's length away, with the top of your screen at eye level or slightly below it. If your desk is too low and you can't adjust it, you may prop up your computer on some books. People who use laptops may purchase a standalone keyboard in order to keep their hands at the proper level.
Lighting: Ensure your home office is well-lit. You don't want to have to hunch forward to squint at your screen or paperwork, as this can result in neck and upper back pain.
Always remember to use proper posture. Sit upright with relaxed shoulders and avoid hunching forward toward your work.
Knowing What to Do If You're in Pain
If you do develop neck or back pain, it's important to see a medical professional promptly. Ignoring the problem in hopes that it will go away might only make your symptoms worse, and taking pain relievers will only mask the problem (and may cause side effects).
Chiropractic care is highly effective for treating neck and back pain. This pain is commonly caused by misalignments, or subluxations of the vertebrae. Your chiropractor can apply gentle pressure to realign the spinal structures and relieve your pain.
Chiropractic Care for Neck and Back Pain in Ventura
In Ventura, CA, Dr. James Baranski, D.C. of Advanced Spine & Sport Chiropractic has developed a longstanding reputation for quality care and rapid results. Dr. Baranski uses a variety of treatment modalities along with patient education and home exercise programs to help his clients achieve better wellness, productivity, and quality of life.
Call our office at (805) 642-4061 to schedule an appointment.

Posted In: Chiropractic Bad Posture Proper Ergonomics